Meet the Musicians
Roger Ceresi (Vocalist)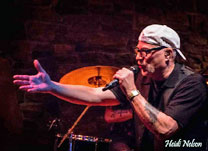 Roger Ceresi's desire to express himself through the arts first emerged at the young age of five. Growing up in the projects was not easy and Roger found that dreaming about becoming a performer helped him to escape the difficulties of that period of his life.
Thankfully, Roger's saving grace was his grandparents love. At the age of ten, his grandparents took him from his unhealthy environment and brought him into their loving, nurturing home to live, which Roger can only describe as "heaven". Here he now was encouraged to turn his dreams into reality.
The first instrument he attempted to play in 4th grade was trumpet, which was very soon replaced by drums. The drums were an instrument on which Roger could truly excel giving him an outlet to release his spirit in a powerful and energetic fashion. He took drum lessons with several great drummers: Rocco Ruggiano, Arti Cabral and the world renown, Allan Dawson. He majored in classical piano and voice at Rhode Island College where he was offered a scholarship in classical voice, He then went to Berklee College of Music where he majored in piano and arranging & composition. Roger went on to play drums for many years in rock, jazz, horn and show bands.
When Roger played for a period of time in a show band, he used to come out front and do an Elvis impersonation. The audiences went crazy. That's when he realized that for him fronting a band was where he felt most alive. From that point on Roger never looked back. He began studying voice with Dante Pavone in Boston who tutored artists such as Michael Jackson, Diana Ross and Steven Tyler and then in Los Angeles with Seth Riggs who taught all the musical greats.
Roger fronted a very successful Rock & Roll band called "The Breakers" in Boston in the late 70's to early 80's. They played up and down the East Coast, including Boston, New York, Connecticut, New Hampshire & Maine. They played the infamous Rat Skeller in Boston at the same time "The Cars" and "Aerosmith" performed there. Some of these accomplishments are recounted in the new book From Rags to Riches to Faith by Daniel W. Berthelette. A copy of this book can be purchased here.
Roger played with two other bands in the 70s: "Fancy Colors" and "The BrotherHood Band". He toured cross country and in Canada, first doing a tribute to Elvis with "Fancy Colors", back when doing tributes was not popular. They were ahead of the times!.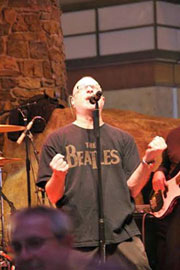 In the early 80's, Roger moved to California and fronted an original rock band called "Good Thunder" which performed thoughout Los Angeles. He also made guest appearances with a well-known New Age band called "Freeway Philharmonic". He did extensive studio work singing on video and movie sound tracks. He also studied acting at the well-known Santa Monica Playhouse and went on to perform roles in plays and a comedy film. Roger eventually moved back to Rhode Island where he started to sing with R&B horn-bands.
He began fronting a band from Massachusetts called "The Kidds". The group was renamed "Roger Ceresi & the Kidds" and later renamed "Roger Ceresi & the Rockin' Soul Horns". They performed successfully throughout the New England area for 7 years. During this time, Roger co-wrote the group's infamous CD entitled Don't Take Away the Night.
Roger eventually moved on to form his current band, "Roger Ceresi's All Starz". Backed by a stage full of incredible musicians, each a star in his own right, Roger leads this horn-driven band with all of his soul. Roger is an engaging performer who draws from all his life experiences to create a powerful, high-energy performance filled with passion, excitement and pure unadulterated fun! Audiences are immediately swept up by his energy and enthusiasm. But, like any other great performer, he knows that without a great group backing him up, it wouldn't be the same. To that end, Roger says "this is the best group of guys I've ever performed with, hands down no doubt! I love this band. I have found my home and I'm loving it!"
NEW!! Listen to the studio version of "Sound of Silence" here, sung by none other than Roger Ceresi, recorded in 2018! He also performed it live with the Summer Pops Orchestra in 2018.
Barry Fleischer (Saxophone)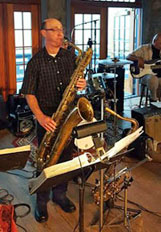 Barry Fleischer, tenor, Alto, baritone saxophone; flute, Clarinet - from New Haven CT; has been playing professionally since the age of 14. Studied music with private teachers, and attended Julius Hart School of Music Summer Program, Choate Summer Music Program under the direction of Trombonist and Woody Herman almunis Phil Wilson, University of Bridgeport, Music Education Program. While playing in the Duke Ellington Fellowship Orchestra at Yale University, under the direction of Willie Ruff and Dwike Mitchell, of the Mitchell Ruff duo, he was a featured solo artist with such jazz notables as Dizzy Gillespie, Slam Stewart, Benny Carter, Clark Terry, Earl Warren, Dick Katz, Oliver Jackson, Peck Morrison, Bo Diddley, and the Mitchell Ruff duo. Barry has been an active and visible part of the Boston Music Scene since moving from New York City in 1982. In the early 1990's he was leader of his own instrumental quartet, " Swing House".

His music has been described as an authentic, jump blues style, with all the energy and drive reminiscent of the late 1940's and early 1950's saxophonists. His unique and warm tone can be heard with many popular Boston bands. He has recorded three albums on Rounder Records with Michelle Wilson. He is currently a member of the "Sweet Willy and the Continental Walk" and Roger Ceresi's All Starz.

Brad Kleyla (Trombone)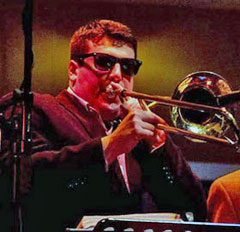 Brad Kleyla is a freelance trombonist, vocalist, and recording engineer in the Southern New England area. He began studying trombone at the age of ten, and went on to study trombone performance at Rhode Island College. In 2010, Brad transferred to DePaul University in Chicago where he obtained a degree in sound recording technology. While at the DePaul University School of Music, Brad studied trombone and euphonium under Mark Fisher, Chicago Lyric Opera Orchestra, and Charlie Vernon, principal bass trombonist of the Chicago Symphony Orchestra. Brad is currently the trombone instructor at Woonsocket High School and Rick's Music in Cumberland. He also maintains a private music studio. In addition to the RC Allstarz, Brad plays trombone with the Narragansett Bay Symphony Orchestra and holds the tenor section leader position at Grace Church in Providence. He frequently performs in big bands, musicals, and chamber concerts around New England.
Joey Sullivan (Drums)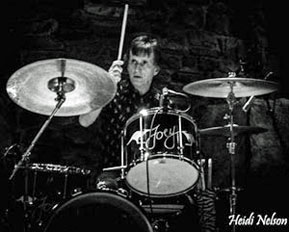 Joey Sullivan started playing drums when he was just eight years old but didn't take it seriously until he saw Ringo Starr play on the Ed Sullivan Show. He's been a die hard drummer ever since. Joey's first "paying gigs" were with rock-n-roll bands while still in high school. After high school he joined his father's jazz band. His dad was an upright bass player with many contacts and he got Joey started in the "business". Joey played with many types of bands during this period: Jazz bands, Rock-n-Roll bands, a Las Vegas style show band, a Funk band, a Tijuana Brass tribute band and even a Dixieland band.
Joey became a bandleader when he formed his own rock-nroll band called the "Rockin' Midnites" which he kept working full time for seven years. When it disbanded he took a year off from the music business. During this time he moved back to his birthplace of Newport, RI. It wasn't long before he missed playing music so he joined a Rockin' band called "Little Sister" but he couldn't help noticing the abundance of blues bands active in RI. Years ago Joey had a friend who played with James Cotton and his friend was having so much fun that it left a favorable impression on him. Joey started free-lancing with local blues groups and eventually joined "Blueswagon" and then "Killer Kane & the Blue F.O.'s". Joey played with the "Chris Fitz Band" for two and a half years and appears on Chris' album entitled "This Is My Church". Joey also played with "Rick Russell" "Fatwall Jack" "Two Bones and a Pick" "The Matthew Stubbs Band" "Stovall Brown" "Cheryl Arena" "Tom Enright" "Loaded Dice" and "The Doug James All Stars".
Joey currently performs with "Roger Ceresi's All Starz". He also has his own rock-n-roll band, with All Starz band mate Rob Nelson, called "JoJoMiMa". When not appearing with Roger, Joey continues to free-lance and can be seen with "Gary 'Guitar' Gramolini, The Mojo Kings and Jason James & the PsycoBilly Cadillac to name a few. Lastly, Joey performs traditional Irish music with a group named "Spraoi" (pronounced Spree). Spraoi is based in Dublin, Ireland and Joey appears with them in Ireland as well as in the good old U.S.A.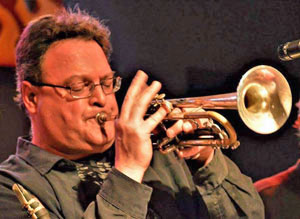 Okay, why "Leather Lungs"? John's brother Pete told him that he should use the nickname because a lot of people who play blues music have them, and this is a name which a newspaper gave him a couple of years ago. He studied physics in college and works days as a contract software engineer. He took private trumpet lessons in high school for years from a wonderful man named Nelson Balsamo, and played trumpet as often as he could. John loves performing for people and loves to see them enjoy and be uplifted by good music. Over the past few years he has worked as a musician in the New England region.
Some of the people/groups he has played with are: Nick Curran, Roomful of Blues, Duke Robillard, Sugar Ray Norcia (Great singer with the famous Roomful of Blues band for many years), Loaded Dice w/Danny Vitale (Swing, jump blues group with many former Roomful of Blues members), K.D. Bell (R&B, Funk and Blues music), The Movers (Winners of the 1995 Harper's Ferry Battle of the Blues Bands and the 1995 12th Annual International Blues Talent Competition in Memphis, TN), Ibrahima Camara (Senegalese Talking Drum Master, African Pop Music; recorded on his release, "Sama Yie", which won the Boston Music Award, International category in 1993), Concord Band (Community band concerts and solo work), Luther "Guitar, Jr." Johnson (great Chicago-style blues), Hot Tamale Brass Band, Mickey Bones (marching brass band modeled after the great street bands of the city of New Orleans), Clarence "Gatemouth" Brown, Eric "Two Scoops" Moore (recorded with him on his 1996 release, "Big Buffet"), Chris "Stovall" Brown, Jay Place, Matt Woodburn and the Kat 'N' the Hat Band, Scott Shetler, "Sax" Gordon Beadle, Charlie Hunt & Search Party, and last, but not least, Phil Wilson.
Matt McCabe (Piano)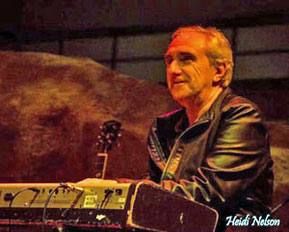 Matt McCabe is a seasoned and nationally-known Jazz piano player who has played on the same bill with many Jazz greats including B.B. King, Muddy Waters, Bonnie Raitt, Van Morrrison, James Brown, Willie Nelson, the Neville Brothers, the Blues Brothers and more. His skill and style are a treat for any music lover because he seems to merge with the piano while playing standards, blues and the boogie classics.
Music came to McCabe early on and naturally. One of nine children born to Irish parents, McCabe picked up the piano almost by osmosis. His father, an English professor at Tufts, and his older brother were into Jazz, but unlike his siblings, he wasn't interested in lessons and picked up piano mostly by ear.
Matt has been playing blues piano for over 30 years and has toured extensively with many of the music greats such as Anson Funderburg, Sam Myers, Roomful of Blues, Sugar Ray Norcia, and Duke Robillard. Some of the artists he has performed with are Stevie Ray Vaughn, Buddy Guy, Ruth Brown, The Fabulous Thunderbirds, Albert Collins, Boz Scaggs, Laverne Baker, Huey Lewis and the News, Robert Lockwood, Junior Wells, Gatemouth Brown, Big Joe Turner, Pam Tillis, Big Jay McNeely, Otis Rush, Bruce Willis, Pinetop Perkins, Jay McShann, Sam Meyers, Marcia Ball, Little Milton, Earl King, Jimmie Rogers, Donovan, Maria Muldaur, Herb Ellis, Matt Murphy, Joe Huston, Nappy Brown, and Delbert McClinton. His film credits include "China Moon" with Ed Harris and Madeline Stowe and "Honeydripper" with Danny Glover. See his discography here.Other credits are listed here.
Papa Dick Souza (Upright Bass and Electric Bass)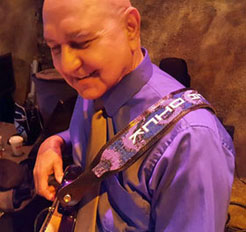 Papa Dick Souza has been an active player since the 50's, a member of rock n' roll's first generation. He played with Albi and the Spellbinders from the late 60's to the early 70's and was in the back up band for Percy Sledge at Foxwoods. After a two-year fight with throat cancer, he came back to play again in 1992 and has not stopped since then. He has also played with Back Issue, The Funk Monks, Acme Trucking Company, The Baker Brothers, Lisa Marie and "All Shook Up", Fat Wall Jack, and Smoke Stack Lightning."Dick is a 'Solid as a Rock Bass Player' and lays it down in very musical and thought-out-well executed bass patterns", says Roger.
Rob Nelson (Guitar)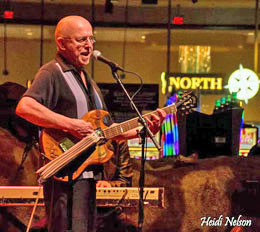 Rob Nelson has been playing in bands in the New England area since 1968. These bands include the Backslap Blues Band, Stovall Brown, Blue Lights, Louis Camp, The Heptones (with Fatman Wilson on vocals), Loaded Dice, Blueswagon and Sugar Ray Norcia. He has also done several tours as the guitar player for Roomful of Blues. As a member of these bands, he toured extensively throughout the U.S., Europe, Canada and the West Indies.

Prestige gigs include the Montreal Jazz Festival (50,000 people), the W.C. Handy Awards in Memphis, TN, (with B.B. King--host), Tipitina's (New Orleans), Lone Star Café (N.Y.C.), Antone's (Austin, TX), Slim's (San Francisco), Buddy Guy's (Chicago) and virtually every major (and minor) blues club in North America. I've toured with Lazy Lester (a legendary blues harp player from Baton Rouge, LA.) for 5 years. Also toured with bluesman Wild Child Butler. Over the years I've had the pleasure of playing with artists like Big Joe Turner, Lloyd Glenn, Buddy Guy, Johnny Winter, Jimmy Johnson, Joe Louis Walker, Anson Funderburgh, Katie Webster and Coco Montoya, etc.
Rob has opened for just about every major blues star including Muddy Waters and John Lee Hooker and recorded with Porky Cohen, Sugar Ray Norcia, Loaded Dice, Blueswagon and NOW the Roger Ceresi's Rockin' All Starz.
Richard Ribb (Bass)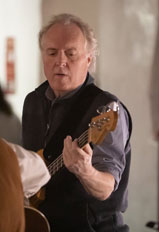 Richard Ribb (aka Rich) has performed with a number of established bands in southern New England including Arrow, the Shake, the Outpost Boys, Rockin' Soul Horns, Biscuit City, the Dick Clarks, the Mishnock All Stars, and the Chesterfields. He brings groove-oriented bass playing and close harmony singing skills to the trio as well as an extensive knowledge of popular songs from the 60s on. He continues to write and record original songs, collaborating with many local musical colleagues and has performed on several recordings for local and regional acts. Check out his page at www.reverbnation.com/artist/richardribb.
Richard Reed (Organ and Piano)

Organ and Piano player Richard "Dickie" Reed has played with Junior Walker & The All Stars, Otis Rush, Earl King, Duke Robillard, Ronnie Earl, Hubert Sumlin, Roomful of Blues and many other R&B and Rock & Roll "Greats". He was inducted into the RI Music Hall of Fame with The Schemers.
Gary 'Guitar' Gramolini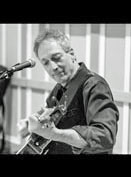 Gary 'Guitar' Gramolini is a founding and still active member of RI's John Cafferty and the Beaver Brown Band (Rhode Island Music Hall of Fame inductee, 2016), as well as a band leader (Gary 'Guitar' Gramolini and the Grinders), and band member over 4 decades in The Boys of Summer, The Ocean Mistics, Ken Lyon and Tombstone, The Saw Horses, as well as a Solo Performer/Singer/Songwriter. He and Roger Ceresi have been performing as a Duo since 2005 and still going strong.
Greg Laboss (Vocalist Extraordinaire)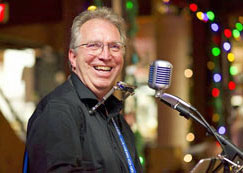 Greg "The Boss" Laboss is a multi-instrumentalist, husband, dad, elected official, and all-around nice guy!
Hank Walther (Piano and Hammond Organ)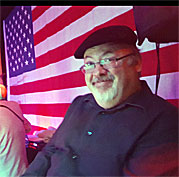 Born in Providence, RI in 1961, Hank Walther grew up in Riverside listening to many local bands, including Country and Blues. His father was Hank Walters, the New England country legend, and thus Hank's influences stretch from Floyd Domino and Floyd Cramer to Dr John and Booker T. While in a Newport-based band, Little Brother, in the 1980's, he opened for Roomful of Blues; and from that moment on, hewanted to be in the band.
He moved to Nashville in 1993 to play full time, and he has played the Grand ol' Opry, and Farm Aid; in Hank's case, several times with John Conlee. Hank also worked with such major country acts as Jim Ed Brown, Jeff Moore, and Michael Peterson.
He moved back to Rhode Island in 1999, finally becoming a member of Roomful of Blues for over two years, from 2000-2002. Hank recorded on two of the band's albums, Watch You When You Go and Live at Wolfetrap.
Since leaving Roomful of Blues, Hank toured for over 10 years playing on cruise ships, both with Disney Cruise Line in Florida and Norwegian Cruise Line of America in Hawaii. After that, he settled down with family in Riverside, joining and recording with many local bands including Rob Nelson's Americana band, The Robcats, and Johnny and the East Coast Rockers. In 2020, he became a member of another great 8-piece big-horn band, Roger Ceresi's All Starz!
© 2021 Roger Ceresi Productions. All rights reserved in all media