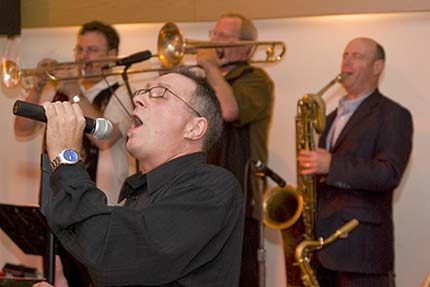 Exciting! Entertaining! Thorough! Incisive! Roger Ceresi Productions (RCP) is all that and more. Roger Ceresi, its owner, incorporates his soulful singing style, his ability to entertain, and many years of experience as bandleader and booking agent, to create a production company that caters specifically to the client's individual needs, specializing in corporate events, weddings, parties, festivals, and nightclubs.
One of the bands brought to you by Roger Ceresi Productions is Roger Ceresi's "All Starz" & the AllStar Horns , one of the hottest rhythm & blues horn bands in the country and paying tribute to the great "music legends" of the 50's and 60's. They will have you dancin' and rockin' all night long. Find out all about them and where they are playing on this site.
To find out more information about booking the "All Starz", Roger and Gary Gramolini from the Beaver Brown Band, Roger, Jon Hathaway, Richard Ribb, and/or Greg "The Boss" Laboss (Dynamic Trio), and the other incredible bands and solo & duo acts made available by Roger Ceresi Productions, as well as Roger himself to front your band, contact Roger at 401-465-8432 (cell) or rjceresi4@gmail.com.
© 2012 Roger Ceresi Productions. All rights reserved in all media